Preserve a Piece of History!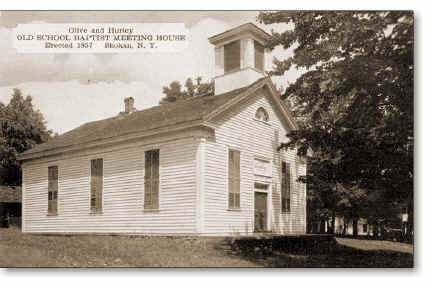 SHOKAN, NY, February 11, 1999: The Olive and Hurley Old School Baptist Church has been chosen as one of twenty organizations and municipalities state-wide to receive a Rural New York Historical Preservation Grant from the Preservation League of New York State in its December 1998 round. The $4,400 grant will cover the cost of a Conditions Survey of the Church's antebellum Meetinghouse. The study will be conducted by Marilyn Kaplan, Principle of Preservation Architecture of Valatie, who will provide a professional overview of current building conditions with a prioritized list of recommended repairs with cost estimates. "This conditions survey will give a big boost to our on-going restoration efforts.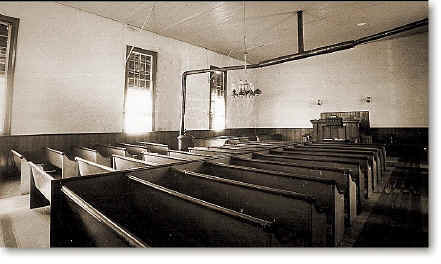 An objective assessment by a qualified preservation professional will both provide us with the direction we need and add credibility to our efforts in the eyes of other funding organizations and this is essential" explains trustee Eric Winchell. About the Meetinghouse Restoration Project In early 1998, a grass-roots effort was undertaken by local volunteers and church members to restore the historic Meetinghouse of the Olive & Hurley Old School Baptist Church. In the fall, the building and surrounding property were listed on the New York State and National Registers of Historic Places. To date, nearly $9,700 in individual contributions has been collected for basic repairs. Funds are still urgently needed for replacement of the building's roof.
Anyone interested in supporting this effort is encouraged to send tax-deductible contributions to: The Old School Baptist Church, PO Box 422, Shokan, NY 12481. About the Rural New York Grants Program The Rural New York Grant Program supports local grassroots efforts throughout New York State, focusing on the preservation of the built and natural environments, land use planning, and environmental advocacy. Since 1993, the Rural New York Grants Program has awarded $1.86 million in direct support to 598 projects. For more information on the results, please contact Tania G. Werbizky, Director, Technical and Grant Programs, Preservation League of New York State, 607-272-6510.
Commentary by Eric Winchell, Trustee, Olive & Hurley Church on Thursday, February 11, 1999
Photos by Ottomar Loorents of Shokan